About the Artist: Jo Beale
About the Artist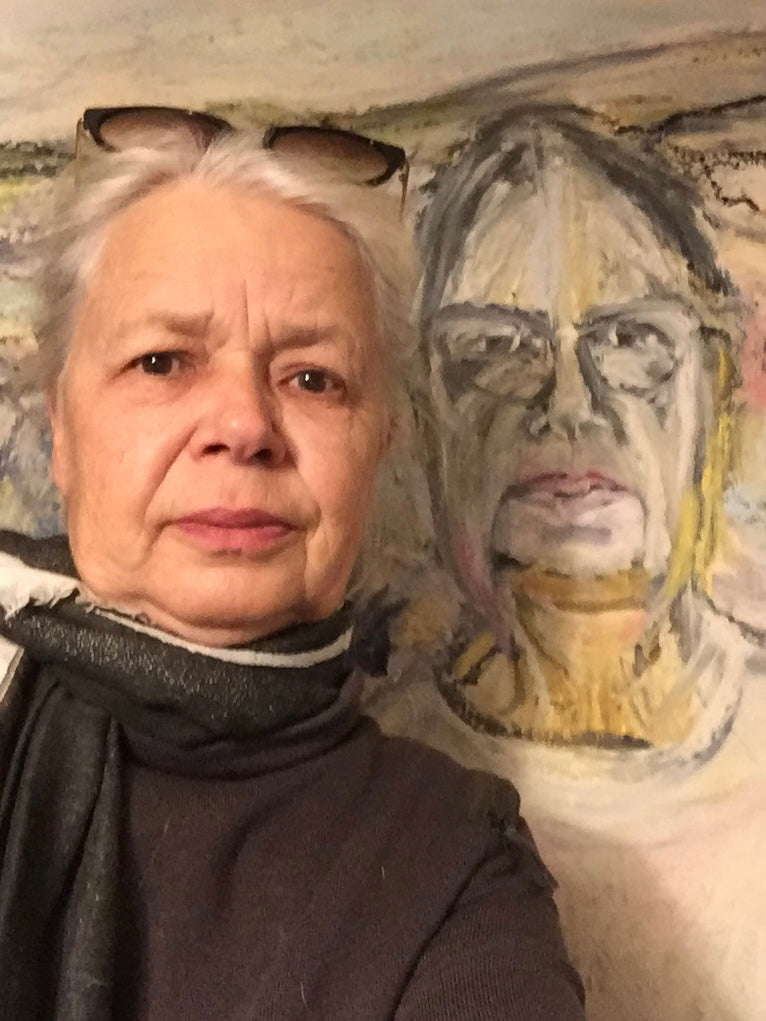 Artist Bio

Artist Biography and Statement:

As a young adult I settled in the village of Peggy's Cove Nova Scotia.

I think of Art as the most important conversation or movement for human beings. It is about the whole world, how we relate to it, live with it. Making art allows me a space to live with uncertainty. I make art works using paint on canvas and also charcoal and pastel on paper.
Drawing establishes and defines an awareness of my physical body in action in the world. Painting focuses my attention on the landscape immediately near me, defines my relationship with it. I paint people I know in order to explore what responsibility means to me, and to understand my love. My studied subjects become as much of a medium for me as the paint and brushes that I use to explore, discover and investigate new perspectives.

-----

Untitled, series in progress (a journal):

The drawings are all of the figure, simply described, drawn as a symbol of a person in action. My interest is that the drawings portray the feeling and emotion during the process of being. Drawing defines a connection between mind and body, searches for an understanding about the idea of free will, describes the human figure in action.

Through the making of the series I trace my struggle to be free of inner feelings of constraint, to register the tension and then see on the page a drawing of the release and balance I searched for. The implausible physical poses depict an engagement in a conversation.

----------

Landscapes involving the place where I live:

I see and understand through making paintings what landscape is really like, and I learn about my relationship to the place. I am grateful to have known the openness of this natural land, to have lived so closely with the expansiveness of the surrounding sea under the influence of the ever changing sky and weather. This place seems empty of everything I had known before. I feel that the place is separate from the world. Everywhere I look I see beauty. Peggy's Cove is a true spectacle. I decided to stay with Peggy's Cove, live there and make art about it.
The land here has not been altered by humans until recently. The early houses are built to fit into to the rock formations in positions safe from the open ocean. They are nestled homes watching the cove. All around are the tilted rounded rock forms and sensitive, slow and low growing foliage, the ocean and the sky. This place has been my subject, the scene that I've physically moved around in for a long time. The rocks are hard granite, yet walking over them or standing quite still in one perfect place, one can feel the rhythm in the land.

I compose visual two dimensional organizations of my experience of this particular place in the paintings by recalling the knowledge I have gained living here and looking. I see truth in the images I have created. The compositions are made from gestural lines and wide swathes of paint colours that express the energy I feel from the environment. When I look again at the real landscape, I understand that I've referenced reality using the medium of paint and the language of visual symbolism to create a composition that describes the feeling of living in a specific landscape. Peggy's Cove will continue to live in my imagination and for ever be the subject of new work.

I studied at the Nova Scotia College of Art and Design University in Halifax. Painting with Gary Kennedy and Eric Cameron; sculpture with John Greer; performance, installation and video art with Michael Asher; feminist theory with Mary Kelly; drawing and conceptual art and with Stephen Horn and Michael Fernandez.

I graduated with a Bachelor of Fine Arts in studio painting in 1984.

I opened 'Jo Beale Gallery ' in Peggy's Cove Nova Scotia, exhibiting my drawings and paintings. Soon I selected artists whose work I admired, to exhibit art with me. I curated and produced exhibits in my historic home, restoring the house and the gardens as I went along. I discovered that painting, showing and selling, form a completed cycle of engagement in art.

------

"The madness and sadness about love":

Using people as subjects in my paintings requires a further, more complicated experimental creative process. I set up an exercise with specific parameters and proceed to paint. I aim to examine my relationships with and memories of people and discover new perspectives to resolve my uncertainty about love.

As I paint my human subject, the expression of the person changes again and again before my eyes. I feel their personality as I know them and I see a likeness emerge on the canvas. As I paint my response to the subject developing on the canvas, the expression and the painting changes. I originally thought I wanted to impose my control over the subject, to paint my version of our relationship. I want to paint truth into the representation of the person, to see my value in their likeness and still pay tribute to a subject worthy of celebration.

I paint with minimal realism while creating a true likeness of each of my subjects. I experience the representation I have created as more intense and confrontational than how I remember and know them. The paintings have emotional power over me. I am overwhelmed during the process and need to look away. I face them again and paint, I feel moved by the subject, I am uncomfortable; I struggle to continue. It is as if the person is really there in front of me. I stop for a time, I want to be alone, even though I have deliberately placed my subject within my most personal space, on my canvas. I loose my determination to be in control, even here in this imagined reality.

As I paint on, able to pick up my earlier momentum, something else happens on the canvas that is different than what I thought I knew. What I see is surprising. I look at the canvas again and I see a calmness, stillness, a clarity has emerged from all the fuss. I see something new, and it is made with paint, coloured shapes and rhythms made of line, painted planes with abstract edges to wonder about. I see a new organization, the subject has turned into a painting. Life has been captured by turning it into another medium, a painting, and the painting has become itself. An exchange has taken place on the canvas, I see a depiction of my lived psychological emotional reality.
I learn about releasing myself from self consciousness, I notice my struggles with my subject include issues around recognition, respect, responsibility and love. The paintings provide me a balancing place between deception and truth.