About the Artist: Sobo Artz
About the Artist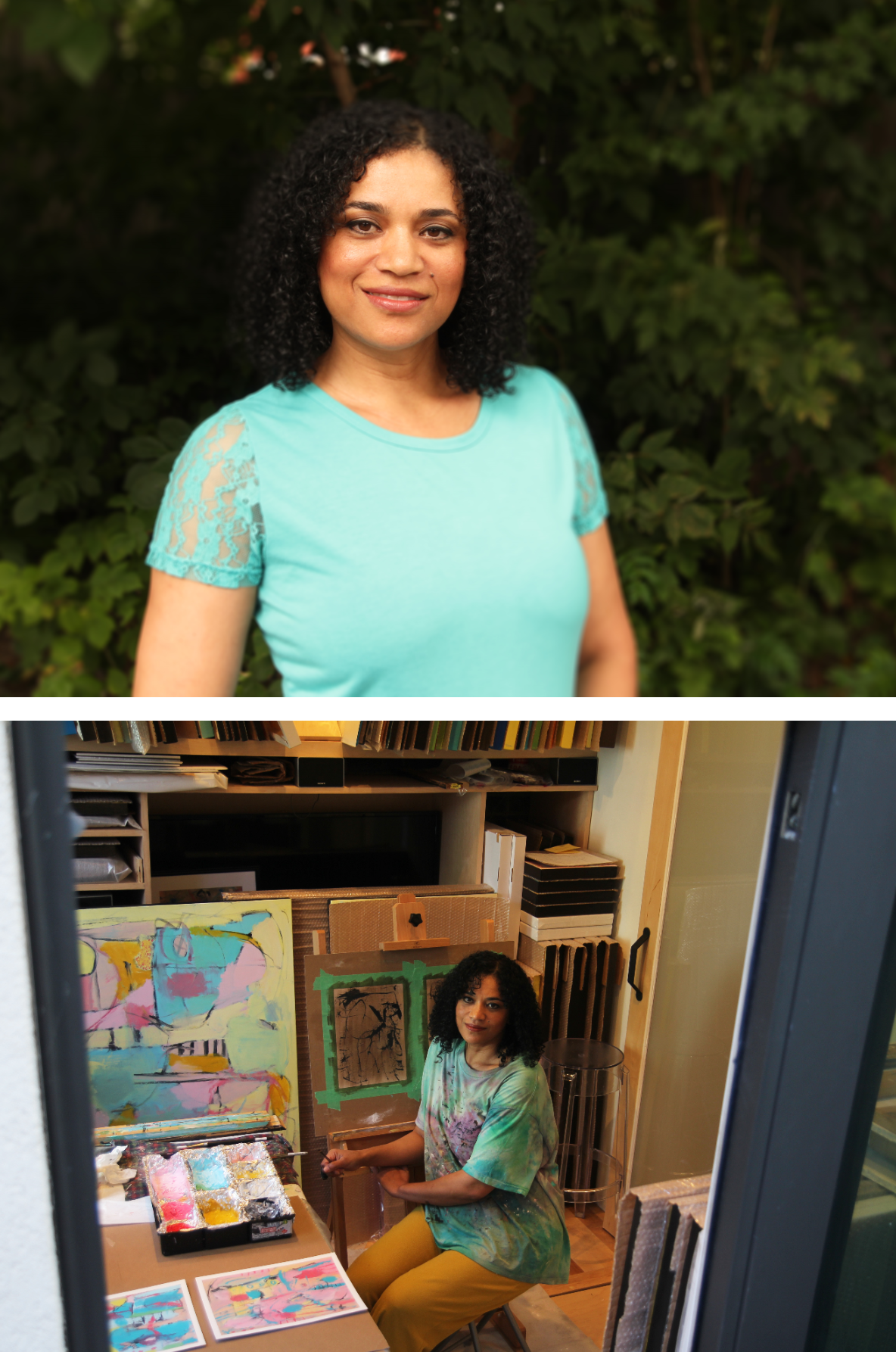 Artist Bio

BIO
b. Georgetown, Guyana, South America
Lives and works in Toronto, Canada

As a child, Sobo lived steps from the famous Sea Wall in South America. When she was in grade school, her family moved to Toronto, Ontario. She loved drawing and painting and dreamed of becoming a professional artist.

Throughout high school Sobo flourished in the visual arts courses and volunteered at the Art Gallery of Ontario. Being in close proximity to these fantastic works of art was very inspiring to her. When in the presence of a Rothko, Diebenkorn, De Kooning, or a Frankenthaler work, Sobo felt that she could travel to a zone where there would be infinite possibilities.

She studied Business Management at college and worked in the financial sector. Eventually, Sobo wound up on a path that led her back to the arts.

From a chance meeting, she became a professional recording engineer and songwriter. Sobo has since co-written songs with an Award Winning Music Producer that have charted in both Canada and the U.S.

Some of these songs have been featured on hit television shows worldwide including "America's Next Top Model"(ABC), "NUMB3RS" (CBS), "My Super Sweet Sixteen" (Mtv), "Next" (Mtv), "Pimp My Ride" (Mtv), "Hit The Floor" (BET), etc…

For the past couple of years, Sobo has focused more of her creative energy on the visual arts while still co-writing songs on the side including Lola's hit radio single "Your One and Only" (#14 FMQB A/C Chart U.S.A.).

She's had her artwork displayed in multiple venues in North America and Asia. One of her paintings "Changing Tide" can be seen in the upcoming film "Keystroke".

With a principle focus on abstract, Sobo seems to consistently capture the essence of the human condition in her works. With a style that varies from the layering of colour to vibrant palette knife painting, she continues to grow in style and confidence with each new work. She also incorporates the tropical hues of her childhood bringing an effervescent, yet visceral feeling to the viewer.

Surrounded by an amazing array of artist peers from a new and thriving Toronto Art Scene, Sobo's patrons continue to grow with works finding homes in Canada and the United States.

Some of her private collectors include Grammy and Juno Winners, Music Publishers, Film/TV Executives, Real Estate Agents/Developers, Bay Street Lawyers, Accountants, Financial Advisors, Entrepreneurs, etc…

Artist Statement:
Although I appreciate the masters, I am most inspired by the great abstract artists of the 20th century.

I enjoy the carving, mixing and layering of paint to create texture and depth. I feel a fusion of energy when I am behind the canvas.

I feel there is a freedom of flow and dimension created when colors intermingle and merge together. Painting allows me to "bring to life" feelings and ideas that I transfer to the surface.